Why choose Southeast Industrial Equipment?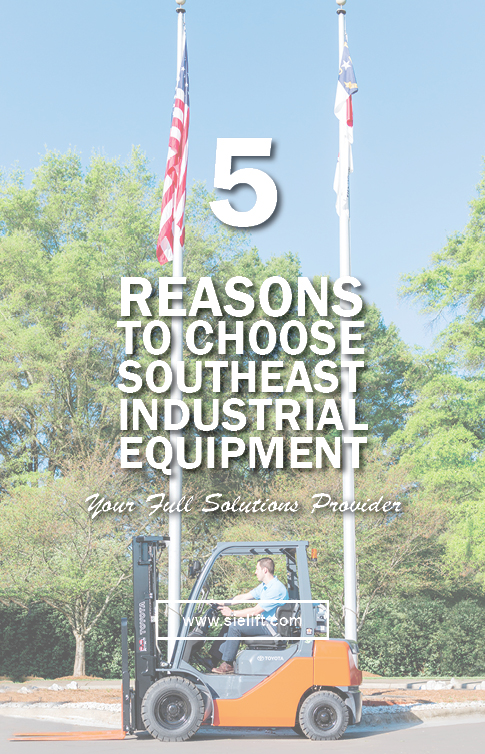 1. Southeast Industrial Equipment is a second-generation, family owned operation with American roots coming up on our 30th anniversary.  Since 1987 SIE has continued to evolve as the premier supplier of quality equipment, products, and superior services in the materials handling industry.
2. We are the full solution to your material handling needs. With nine locations across the Southeast and an expansive inventory of new and used equipment, we are sure to have the right truck for your application.
3. SIE is dedicated to all lines of equipment we offer from Toyota forklifts, Yard Spotters, Aerial Work Platforms, Very Narrow Aisle Forklifts, Large Pneumatic Forklifts, Utility Vehicles, Personel Carriers, Multi-Directional Lift Trucks, to Floor Cleaning Equipment.
4. Over 1,000 rental units in stock and a centralized rental department ready to take your call! SIE has the most competitive rates in the southeast offering daily, weekly, or monthly rentals.
5. "When a customer has a problem, it becomes our problem." – President, Cory Thorne. SIE takes pride in providing superior service. Our fleet of fully stocked service vans are ready to take on most issues at your facility or ours. If your break down is after hours, be sure to take advantage of our 24/7 emergency service.
IT DOESN'T END THERE!!!
SIE has a centralized parts department with over $2 million in inventory and most parts available overnight for all types of industrial equipment.
We have over 300 associates including highly trained territory managers ready to bring our solutions to you. Through site surveys, product knowledge, training and experience, our sales force will provide you with the knowledge of equipment necessary for your application.
Why stop there? We can provide the paramount warehouse design you have been looking for whether you need a full overhaul, new racking, or updated safety equipment, we do it all! Our warehouse catalog and design partners are the answer to your facility's productivity needs.
Rest assure that your warehouse is running smoothly with the latest technology SIE has to offer. Fleet Management programs to monitor the productivity of your facility and keep costs down. SIE offers training programs such as operator training, safety training, Train-The-Trainer, and more. Our mission is to keep safety as a top priority to keep productivity up and costs down.
For more information, contact us by phone (866) 696-9125, email contacts@sielift.com, or stop by one of our nine locations scattered through the southeast.