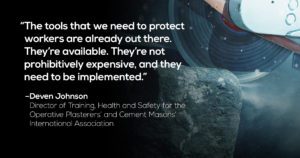 In a recent article on www.osha.gov, OSHA lays out the final rule of industry standards that are to be administered over the next two years reducing the risk of exposure to respirable crystalline silica. There are 4 key provisions for workers that must be implemented including use of engineering controls, such as, water or ventilation to limit worker exposure. "About 2.3 million workers are exposed to respirable crystalline silica in their workplaces, including 2 million construction workers who drill, cut, crush, or grind silica-containing materials such as concrete and stone, and 300,000 workers in general industry operations such as brick manufacturing, foundries, and hydraulic fracturing, also known as fracking. Responsible employers have been protecting workers from harmful exposure to respirable crystalline silica for years, using widely-available equipment that controls dust with water or a vacuum system." – A recent article titled "OSHA's Final Rule to Protect Workers from Exposure to Respirable Crystalline Silica" on www.osha.gov OSHA suggests to replace crystalline silica materials with safer substitutes, whenever possible. – "Crystalline Silica Exposure Health Hazard Information" Wet cleaning with equipment that have high quality vacuum and filtration systems are an affordable solution to a large costly problem. SIE offers floor cleaning equipment equipped with engineering controls, water and/or ventilation with superior cleaning capabilities, as well as, industry leading filtration and debris capture technology.
You can find the 4 key provisions for employees in the article here. To request a demo to see how the floor cleaning equipment we offer can assist in this initiative simply click here or call us today at (866) 696-9125.
It is estimated that this rule will save over 600 lives and prevent more than 900 new cases of silicosis each year.