The Peerless Research Group and Modern Materials Handling conducted a lift truck study on acquisition and usage in today's market in comparison to 2014-15.  In this study you will find information from how lift trucks are acquired to the reasons most businesses purchase such equipment. We have decided to break it  down a bit more and share our highlights.
Did you know that 46% percent of buyers purchased lift trucks from 2014 to 2016 for accounting purposes and/or financial reasons over being industry creators of habit.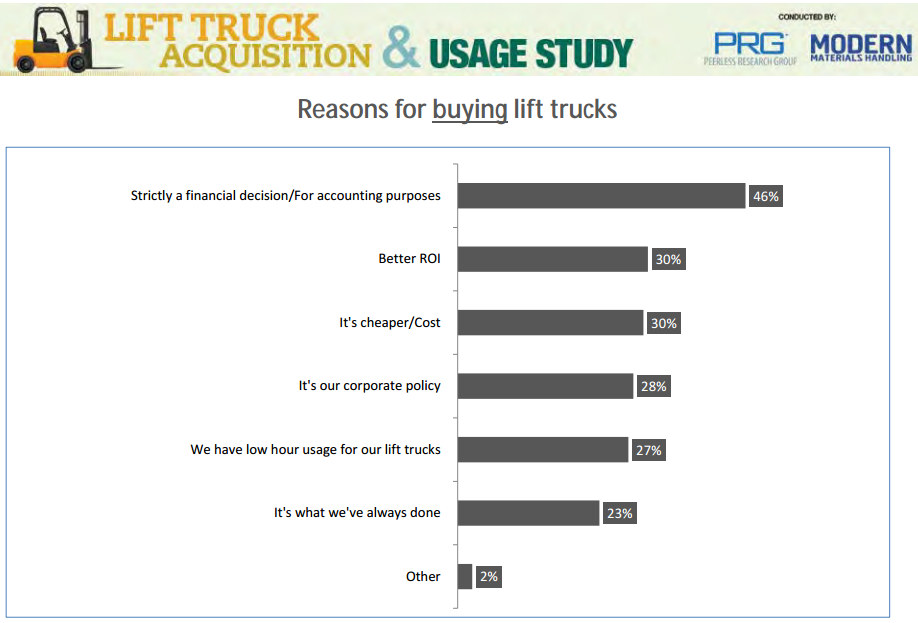 Another 30% purchased them to see a better ROI for their business. In 2015 60% of the group surveyed said that the level of impact the economy or market factors have on how they decide to acquire their equipment had little to no impact on their decision at all. This year the percentage only dropped by 3%. The take away from this is that businesses are buying/leasing equipment to reduce costs and gain productivity no matter the market we are in.
Making the decision to take on ownership of lift trucks and similar materials handling equipment not only eliminates the middle man and the constant need to rent multiple pieces of equipment but, to see a boost to the bottom line.
This lift truck study shows that 86% of people buy or lease directly from a dealer. Much like the automotive industry, individuals still prefer to experience this type of equipment first hand during the purchasing process. Buying or leasing from a dealer gives a prospect the peace of mind that they not only will get the top of the line equipment at competitive prices but, that they will have a partner for the service and maintenance considering that 51% of businesses chose to outsource to the dealer purchased from this year.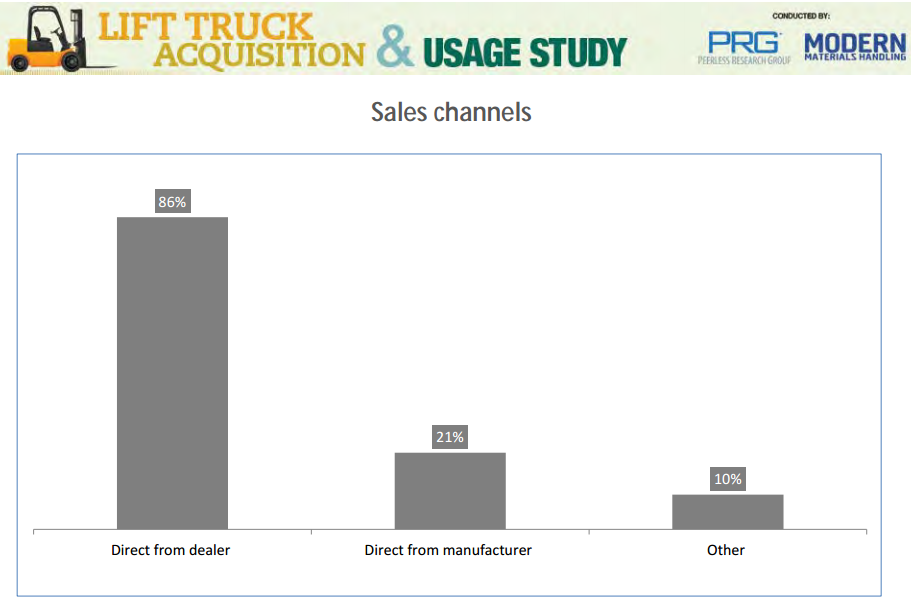 Dealers are not just equipment pushers. Acquisition of lift trucks should be more so focused on who can give the end user the full solution to that lift truck. Again, when purchasing a car from a reputable dealer, most people would be more likely to have their vehicles serviced by that dealer instead of having to go to multiple locations after service is due. Dealers also maintain the training of their in-house road and shop technicians leading to one of the top reasons to outsource to a dealer for maintenance and repair programs. Knowledge of equipment and parts on hand are huge factors when choosing a dealer to service your equipment. In our opinion, when service and maintenance plans are under one roof it makes for a much less stressful owners' experience.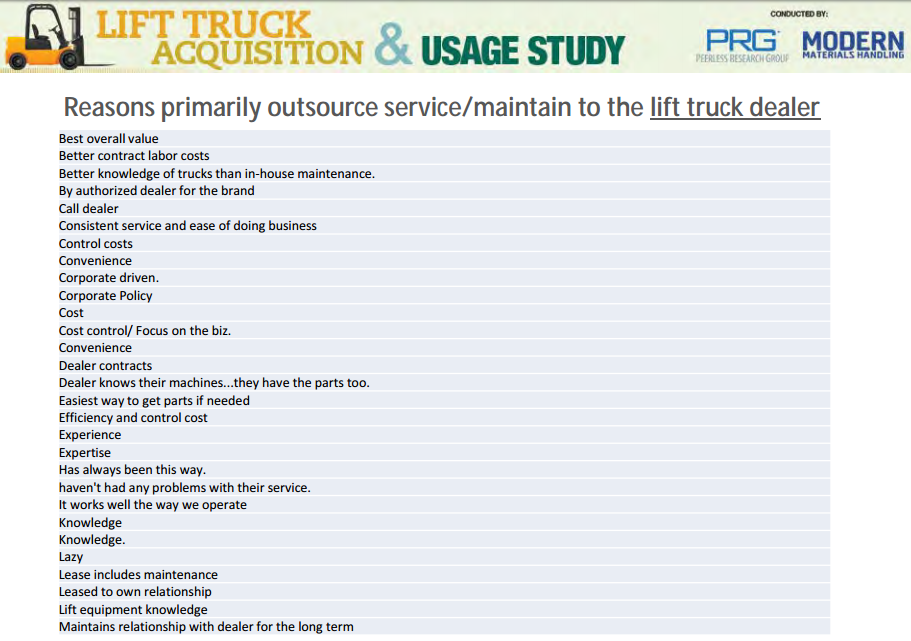 This years' update to the PATH (Protecting Americans from Tax Hikes) Act and spending cap of the Section 179 Tax Deduction has sweetened the opportunity to take advantage of the tax deduction. Businesses that are looking to acquire new equipment during 2016 should strongly consider doing so before the deadline of December 31st,2016. The study shows that in 69% of individuals chose to buy as opposed to the 14% that chose to lease. This tax deduction not only puts cash back in your pocket, it opens up windows of opportunity to scale businesses to where they need to be.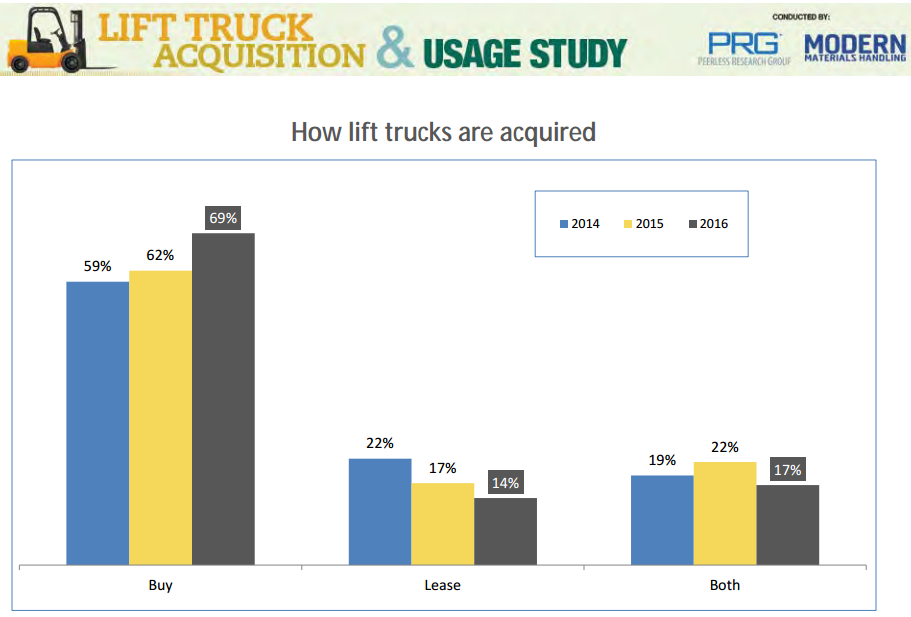 One other interesting note that should be taken from this study is the rise of electric lift truck purchases as well as the positive growth that is occurring in the materials handling industry. Improvements in the electric lift truck manufacturing are contributing to there incline as opposed to the traditional internal combustion models.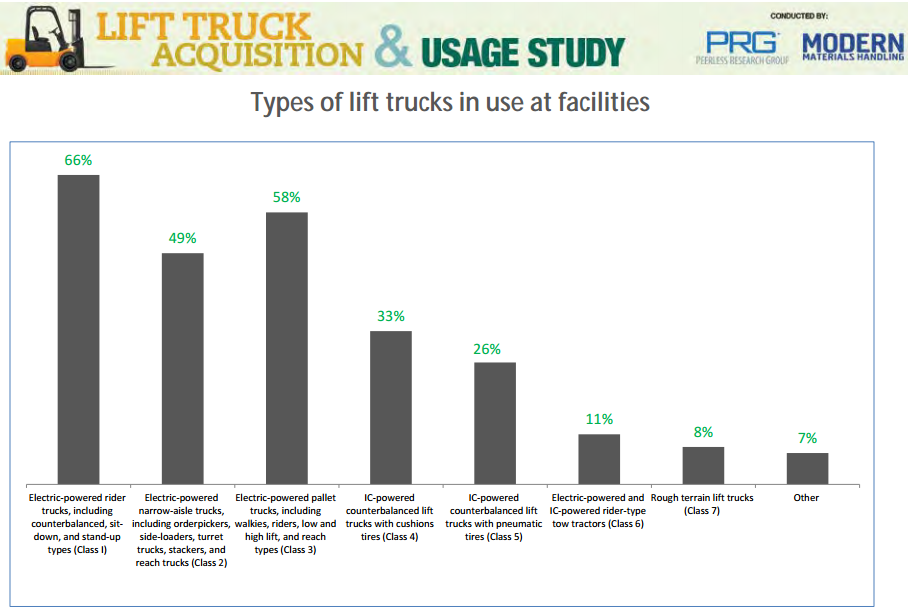 Just look at Toyota Material Handling's 3-Wheel Electric model or the new 80 Volt Electric Pneumatic lift truck. Toyota continues to evolve to fit the needs of the market while keeping the majority of it's equipment manufacturing for the U.S. in the U.S.

Modern Materials Handling's blog on this lift truck study they have conducted with Peerless Research Group.
Read MMH Blog Post >>
source: https://scg-mmh.s3.amazonaws.com/pdfs/mmh_lift_truck_study_2016_092616.pdf