Whether you need to lift a couch or a dining room table, the Furniture Order Picker is up to the task. Designed to handle your pallet-less tasks, the Furniture Order Picker will accommodate carts or furniture platforms and can lift a wide variety of large or bulky items while maximizing space utilization and providing unmatched stability and speed. Additionally, you're getting a high-performance lift with superior ergonomics, enhanced visibility for increased productivity, and an all-around power player that can take your fleet to another level.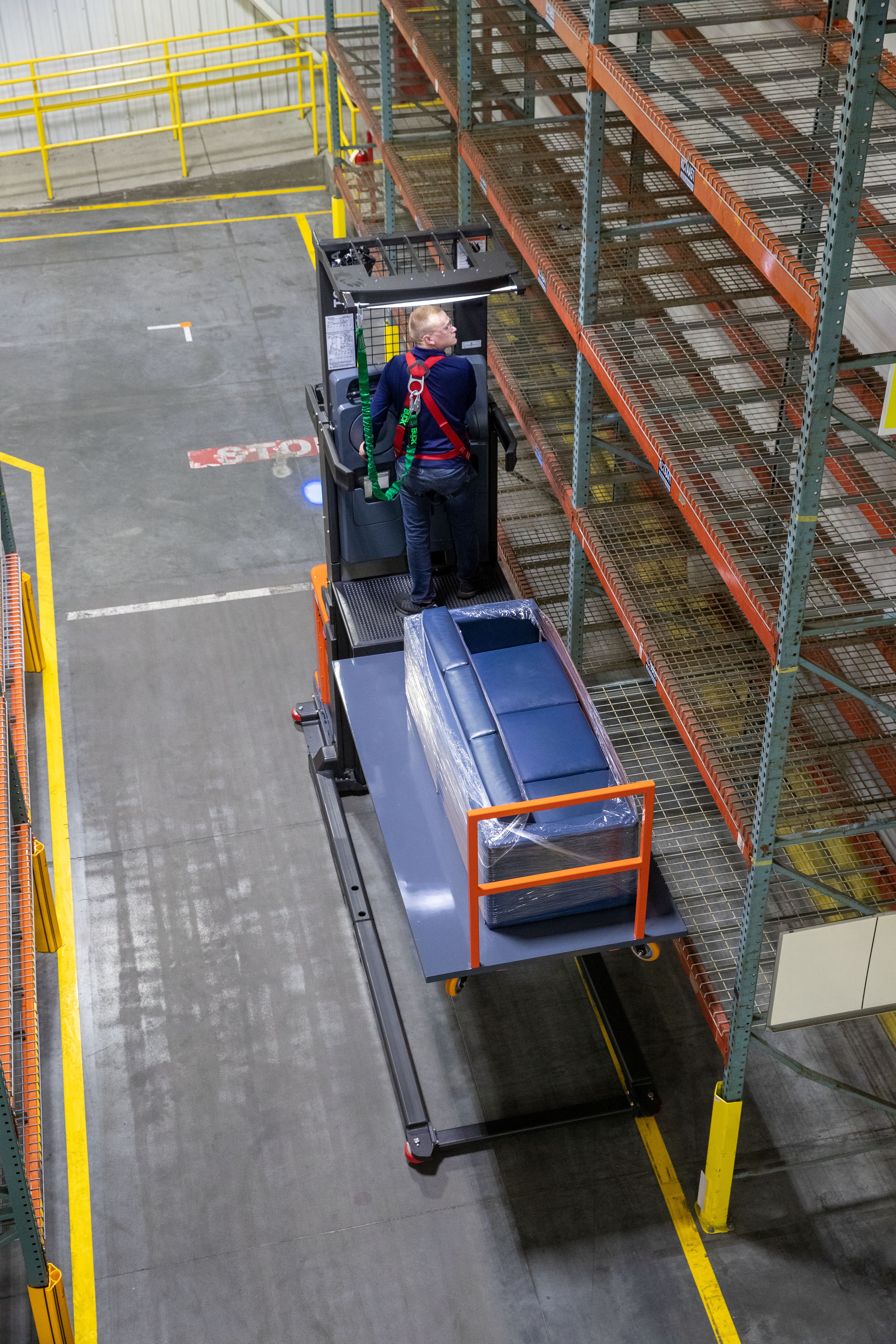 The Furniture Order Picker has many advantages:
Upgraded lift and lower speeds

Allow for maximum flexibility and increased accuracy while picking products

Multifunction control handle

Features ergonomically positioned handgrips, dual thumbwheels, and lift, lower, and horn buttons for simplified operation of controls with either hand

Standard Mesh Mast Guard

Provides enhanced airflow for greater comfort and efficiency

Glance and Go Display

Provides a quick summary of critical information

Auto-Locking Clamp

Allows for quick locking onto clamp blocks on platforms or carts

AC Drive and Lift Motors

Provide superior performance and energy efficiency as well as reduced maintenance costs due to fewer moving parts.
The Toyota Furniture Order Picker was designed for operator comfort and ease of use starting with our intuitive and ergonomically designed control handle. Equipped with same-time speed, lift and lower function, and an on/off switch for ease of use, the Furniture Order Picker enhances productivity through design. The advanced suspension system and hydraulic mast staging help improve operator comfort throughout a shift. Additionally, the low step height combined with the padded floor provides the operator with a comfortable ride during travel and elevation changes.
To Learn more about the Toyota Furniture Order Picker, visit us online at https://sielift.com/products/222073/ or give us a call at (866) 696-9125 today!