Toyota's T-Matics MOBILE and COMMAND products can help you reduce labor and maintenance costs, lost productivity, and damage. And can even help you manage the size of your fleet.
The "new" economy is putting significant pressure on all businesses and management has to do more with less. Job reductions make the headlines, but thinner budgets, productivity pressure and an increased demand for action create just as much havoc as downsizing middle managers and supervisors.
Every day your business is paying significant amounts of money to own and operate your forklift fleet. The cost for each truck can be over $250,000 per year – inclusive of operator salaries, benefits, overtime, truck leases, maintenance, damage, and battery/fuel expense.
For a 50 vehicle fleet, that multiplies to over $12.5 million per year!
Traditional fleet management solutions, like outsourcing maintenance and parts ordering, help make costs predictable, which is beneficial, but does not necessarily provide a meaningful way of reducing costs in real time. Achieving productivity and cost benefits through the deployment of technology is a well-established concept, but can it be applied to forklift fleet and operations management? Can behaviors and costs that have long been considered just "part of doing business" be changed? The answer is YES!
Utilizing advanced technology, T-Matics ensures that your fleet is being used as smartly and efficiently as possible whether you have five forklifts or over 50!

Intended for any size fleet, T-Matics MOBILE is a cellular-based system what's ideal for forklifts that are not locked to a single location. It features a plug-and-play install (with no IT involvement), factory and field installation options, electronic hour meter collection error code reporting and fleet utilization.

Designed for fleets of at least 15 forklifts, T-Matics COMMAND is a wireless forklift management system that collects data by WIFI or IRF cellular within a designated facility. Advantages include electronic North American safety standards checklists, automated alerts and reporting, auto-calibrated impact management, planned maintenance management, operator access control, and more.
What gets measured, gets managed.
Forklift Fleet Tracking – Get visibility of your fleet at all times, whether you're operating at a single location or your forklifts are being moved around North America.
Electronic Safety Checklist – Mandate automated forklift operator checklists before use; eliminate paper and improve accountability and safety.
Maintenance Tracking – Get timely notifications on planned maintenance needs and link directly to your dealership for time-sensitive service intervals.
Web-Based Reporting – Generate benchmarks and report results daily, weekly, quarterly and/or annually and make more informed decisions based on fleet data.
Impact Alerts – Get alerts sent directly to you if your forklifts are involved in an impact.
Use Limited To Only Those Qualified – Set permissions to ensure a forklift is being used by certified operators only.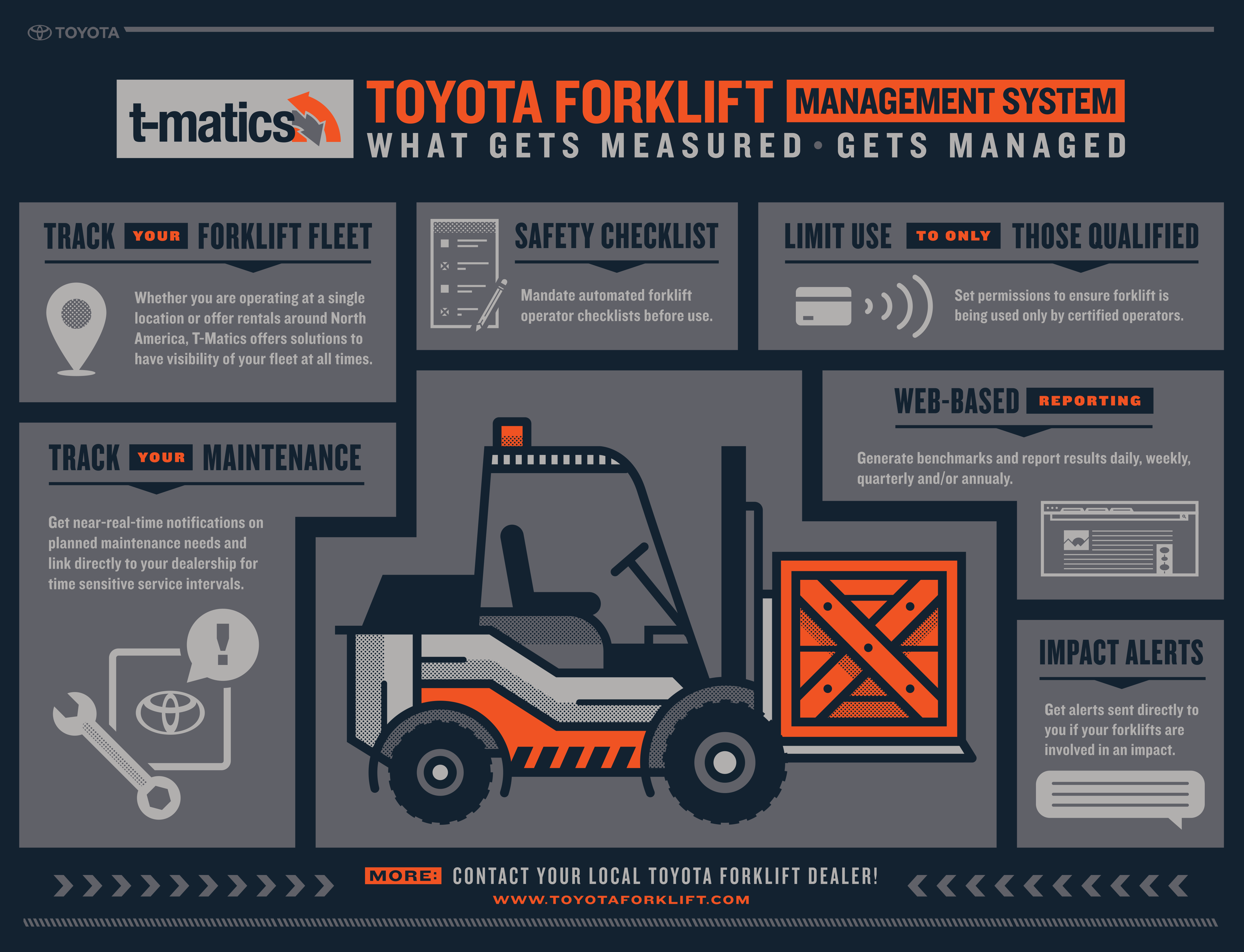 sources: "5 Ways to Reduce Your Forklift Fleet Costs using T-Matics" – Toyota Industrial Equipment  •  "Reach New Heights" – Toyota Industrial Equipment