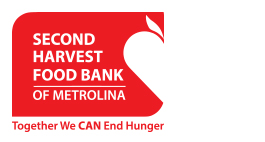 Second Harvest Food Bank of Metrolina held the 2020 Partner Appreciation Awards Thursday, March 12th recognizing its partners for their commitment to helping end hunger in the Charlotte, North Carolina and Metrolina communities. Second Harvest Food Bank of Metrolina (SHMETROLINA) strives through education, advocacy, and partnerships to eliminate hunger by the solicitation and distribution of food. SHMETROLINA has been in existence since 1981. SHMETROLINA serves over 800 partner agencies including soup kitchens, emergency pantries, homeless shelters, senior programs, low-income daycares, veteran service organizations, and animal rescues in 24 counties in North and South Carolina.
In 2019 the Second Harvest Food Bank of Metrolina had a list of accomplishments in 2019 that should not go without recognition:
Distributed over 60 million pounds of food and household items to their network of over 800 agency partners.
Distributed over 32 million pounds of fresh produce, dairy, meat & seafood. These are foods that low-income families need to stay healthy but struggle to afford.
Volunteers donated over 300,000 hours. This is the equivalent of 144 full-time positions with a labor cost savings of 7 million dollars.
259 different programs were aimed at the ending of child hunger including backpack programs, kids cafe meal sites, and school-based mobile pantries.
The equivalent of 6.6 million pounds were collected in food and fund Drives.
Over 7.1 million pounds of food was distributed through 520 Mobile Pantries serving rural areas where poverty is high and resources are scare.
Here at Southeast Industrial Equipment, giving back to the communities that we serve is something we take great pride in. Each of our 10 branch locations throughout South Carolina, North Carolina, Georgia, and Virginia are encouraged to participate in several charitable activities from sponsoring events to volunteer time to collecting items to donate. The Second Harvest Food Bank of Metrolina has recognized SIE as a 2019 New Partner Award Winner and we could not be more honored! In 2018 we were able to donate over 5,200 pounds of food and in 2019 we were able to donate an additional 3,000+ pounds by developing a friendly internal corporate competition to see what team could donate the most goods.
Southeast Industrial Equipment is honored to receive this award and look forward to continuing our partnership with the Second Harvest Food Bank of Metrolina in 2020 and the years to come.