A busy warehouse can at times be a very dangerous place. With vehicles, pedestrians, and not a lot of free space it can become overcrowded. This can lead to serious accidents in the workplace resulting in the injuries or even deaths of employees. The National Safety Council reported forklifts as the cause for 7,290 injuries and 78 deaths in 2020. These deaths resulted in an average cost of $44,000 for each non-fatal injury and $1,310,000 for fatal accidents. Thankfully, technological advances have made it safer to work in a busy warehouse.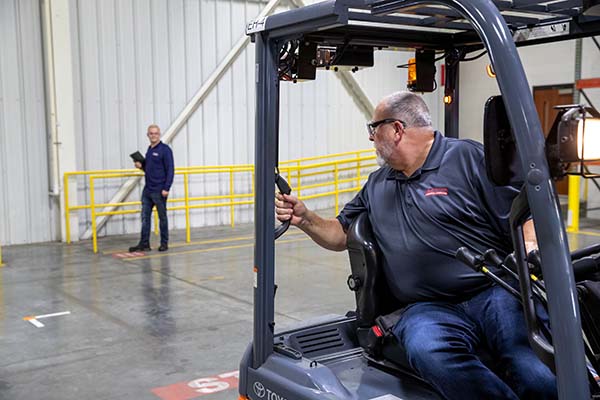 Toyota's Smart Environment Sensor (SEnS) is a feature that is making warehouses safer for both operators and pedestrians. This device uses rear-mounted sensors that scan the warehouse for potential hazards including pedestrians and obstacles. It then alerts the forklift operator of the hazards up to 32 feet away and tells them the distance from the forklift. SEnS allows for three customizable detection zones to fit your exact needs. The system also uses a buzzer alarm and four warning lights that are activated when the forklift gets close to an object. These lights and buzzer differ by each detection zone and will be able to help your operators avoid obstacles in the warehouse.
SEnS is compatible with many models of Toyotas including:
The SEnS is the perfect upgrade to improve the safety of your facility and prevent serious accidents. To learn about adding this system to your Toyota forklifts feel free to call us today at (704) 399-9700 and speak to one of our equipment experts.